Amid the boutiques in Le Marais, the heartland of what the French call "bobo" (bourgeois-bohème) Paris, Andrea Crews' shopfront stands out: mannequins with bumbags strapped across their chests, tracksuit bottoms, trainers and heavy gold chains. This hip Parisian urban label has named the collection "Caillera au grand coeur", which translates to "thug with a big heart". The slang term typically reverses the word "racaille" or "scum", which has found favour with rightwing politicos eager to knock the younger multiracial generation in rundown council estates, especially in the much-maligned suburbs, known as banlieues.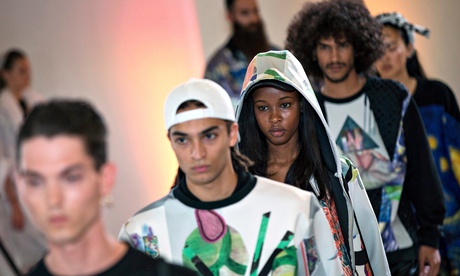 The "caillera" fashion – a mix of sportswear labels and luxury logos – saw a golden age in the 90s with rap groups such as NTM (which stands for "Nique ta Mère" or "Screw Your Mother"), and Vincent Cassel's 1995 film La Haine finding international success. The Parisian contribution to the rapper look included Lacoste polo shirts, Louis Vuitton bags and an extra attention to slick detail.
The indie labels reviving the trend offer urban, sporty and tongue-in-cheek clothes designed for a niche fashion crowd, as a way of opposing orthodox Parisian elegance rooted in haute couture traditions.
Pigalle leads the way: the brand is named after (and based in) the capital's red-light district and is dedicated to "making Parisianness synonymous with multiculturalism", according to founder Stéphane Ashpool. His outfits, worn notably by rapper A$AP Rocky, merge minimalist hip-hop wear and traditional gentlemen's tailoring.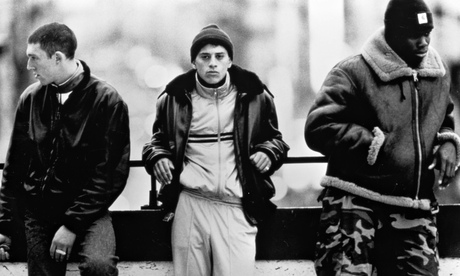 Paris Nord takes this further. The young brand references the rougher areas of town that lead into the toughest banlieues, with its militant slogan "anti-Rive Gauche – the real Paris". It aims to mock the tourist industry, producing items such as T-shirts emblazoned with the Sacré Coeur and "Amsterdam" printed underneath. Its lookbooks are shot in local metro stations and the dingy suburban RER trains.
The massive tourist industry is also the theme of Andrea Crews' recent Paris menswear fashion week collection: basketball outfits worn with necklaces made up of tiny souvenir Eiffel towers, and faux museum memorabilia such as Van Gogh scarves turned into slouchy T-shirts. "This is about reclaiming the city – taking from the tourists and giving back to the people who live here," said founder Maroussia Rebecq.
The designers are united by a reaction to the aggressive marketing of the city as a brand-filled metropolis that Parisian citizens can barely identify with. Twelve million Chinese tourists might flock every year to the Grands Boulevards, but a new generation of angry young designers are now holding their own.
ارسال به