I started buying vintage clothes around 10 years ago, after I cycled past a little vintage shop and felt compelled to go inside. The window was an organised jumble; it wasn't intimidating and felt much more personal than the often clinical feel of a high-street window display. It looked a bit like my bedroom.
My first reaction was pure relief: in here I could rummage to find my own style, rather than being dictated to by the fashion industry. After discovering this little hand-me-down haven, fashion suddenly became about the daily thrill of showing the world who I really was. I loved that the clothes had been owned before – the nostalgia was exciting. I'd create histories for the dresses and imagine their life before I found them.
But buying vintage doesn't come without its challenges. Often, I'll find something I love that doesn't quite fit. Women wore different underwear in the past, so their bustline was higher in many dresses. Their waists were often narrower, and many people made their own clothes, meaning the seams aren't always accurate. I've always used tailors to take in my vintage finds, but recently wondered if I could learn to do it myself. I'd tried the basics, such as tacking a hem and sewing on a button, but my skills ended there, and I'd never had the confidence to attempt anything more technical.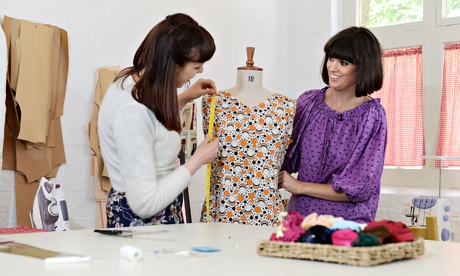 It was time to see if I could do it myself, so I booked myself in for a sewing lesson with Elena Pintus, who runs the sewing school Sew It With Love from her London studio. I took along a dress I'd found in a flea market for £5. It was handmade in the 60s with not a lot of skill, and was four sizes too big for me and frumpy, but I loved the bright burger-print fabric.
Elena asked me what I wanted to do with the dress, and I told her I was keen to keep it true to its original 60s shift style, but wanted it to fit me. It sounded simple, but Elena wasn't so sure. The original seamstress's handiwork meant there was some bunching up on one of the breast seams, and we'd have to unpick them and start again. The dress was also much too wide for me, so we would need to take in the side seams.
To begin with, I put on the dress inside out and Elena pinned the seams to fit me. I then took it off, carefully, and we laid it out on the table. The first task was to chalk a straight line along all the seams we'd pinned by eye, then repin them accurately. We then "tailor-tacked" the breast seams on both sides, to make sure they were even. This process took a long time, and it was fascinating to see the care and hard work that goes into something that looks so simple – even before you get to the sewing machine.
As a true professional, Elena couldn't be rushed – I had to be patient and work through each stage of this laborious process. Once we had repinned all our seams, we moved to the sewing machine and Elena helped me to sew them up, then press them with an iron before I could finally try the finished dress on. The result? Perfect. I now have a well-fitting 60s shift in a brilliant print that retains all of its original charm.
kissyprom prom dresses under 100
ارسال به